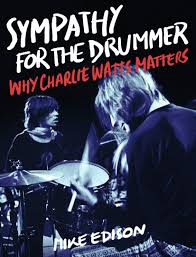 Hello friends! Today we're talking with Mike Edison on his new book, Sympathy For The Drummer: Why Charlie Watts Matters. Mike and I share a deep and abiding love for Mr. Watts, the drummer of the Rolling Stones. There are few like him in the rock and roll world, and as Mike and I agree, the world is a MUCH better place with him in it. As Keith Richards says, without Charlie Watts, there's no Rolling Stones. A point on which Mike and I heartily agree!
I love Charlie Watts, and I love this book. And I loved talking with Mike about our favorite drummer. As Mike notes, the Stones were smart enough to hire a jazz cat as their drummer - and the rest is history. I know you'll love hearing from Mike about why Charlie Watts matters!
Here's a link to the book on Amazon, and here's a link to Mike's website which has oodles of good stuff worth checking out. And for you play along at home types, here's a playlist I put together featuring some of Charlie's best songs. All the songs that Mike and I discuss - and many others - are on the playlist!
BONUS: Mike and I discuss the Stones' 2016 masterpiece, Blue and Lonesome, featuring covers of classic blues songs. Here's a playlist with all of those songs, as well as the original recordings. Enjoy every minute!
If you've got a second, please like us on I-Tunes and leave a nice review, and share the episode with your friends. All those things help and are appreciated. 
See you soon, and thank you, Mike!