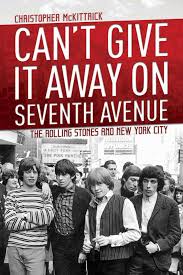 Hello friends! Had a great conversation with Christopher McKittrick on his new book about the Rolling Stones and their career-long relationship with New York City! I thoroughly enjoyed the book and could have chatted with Christopher for hours - like me, he's a dyed-in-the-wool Rolling Stones fan. He also resides in and loves New York City, and had lots to say about the relationship between the city and the Stones. A fun talk and a GREAT read!
Christopher is a prolific writer - a good place to start is on Amazon, where you can check out his Author Central Site. His website is worth a look too - a great place to learn more about our guest. 
And hey, if you aren't familiar with the Rolling Stones and just gotta learn more...well, do a google search and if you're lucky, something might come up!
Thank you Christopher, and I hope everyone enjoys our conversation!
Monte