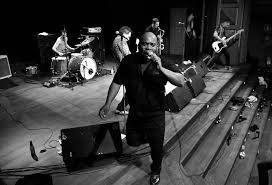 So, this one is special to me.  I first saw Barrence Whitfield and the Savages perform in the 1980s and I have loved Barrence and his music ever since. Led by Barrence and long-time guitarist Peter Greenberg, the Savages put on a full-assault rock and roll attack every time. Describing their sound is never easy. The Savages build their sound on a garage band foundation, adding old-time rock and roll, hard rocking rhythm and blues, soul, and whatever else works to create the classic Savages sound. And at the heart of it all is the Savages full-throated, no-holds-barred lead singer, Barrence Whitfield.
There's nothing like the Savages sound, and we discuss their sound extensively in our discussion.
It was a great privledge to have the chance to talk with Barrence - a consummate musician and performer whom I have admired for so long a time. 
You can learn more about Barrence at his website: 
http://barrencewhitfieldsavages.com
Or visit his facebook page:
https://www.facebook.com/BarrenceWhitfieldSavages/
And of course, the music of the Savages is widely available on Amazon and elsewhere, including from Bloodshot Records at:
https://www.bloodshotrecords.com/artist/barrence-whitfield-savages
The songs you'll hear on this podcast are Pain and I'll be Home Someday, from the Savages' most recent release, Soul Flowers of Titan, as well as Mama Get The Hammer and Bloody Mary, two Savages classics. Because a great part of appreciating Barrence is the live experience, I went with the version off of the great Live Emulsified album - check it out at:
https://www.amazon.com/Live-Emulsified-Barrence-Whitfield-Savages/dp/B005G6QR1E/ref=sr_1_1?ie=UTF8&qid=1537635053&sr=8-1&keywords=Barrence+Whitfield+Live+Emulsified
I hope you enjoy my conversation with the great Barrence Whitfield!